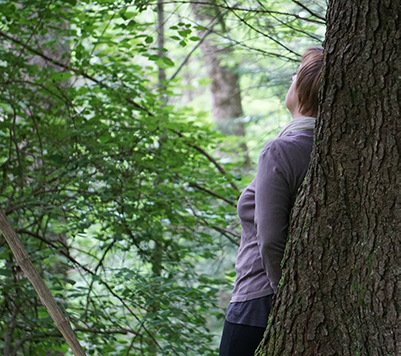 Warren County Conservation invites you to join us in a nature & forest therapy guided immersive walk in nature. Forest therapy is a practice that brings people into a closer relationship with nature and natural places.
We invite you to unplug, slow down, and experience mindfulness in nature. These gentle three-hour walks will focus on opening and using all your senses to explore nature. Shinrin-yoku or forest therapy can provide many positive health benefits such as boosted immune functions, lowered blood pressure, decreased anxiety, increased focus and attention, relaxation, and a connection with nature. Staff is certified with the Association of Nature and Forest Therapy Association.
Forest Therapy is a practice. It is open-ended; there is no prescription for what a person "should" experience, or what benefits they "should" receive. Each person has a different relationship with nature.
*Location Information: The trail that we will take near the Middleswart Lodge can be steep in some areas. We will be walking at a leisurely pace, and can easily take breaks as we go along. This is not a distance hike, but enjoying the journey. Depending on the weather it may be muddy. 
**Please wear clothing appropriate for the weather and dress in layers. We will hike if it is light rain (adds quite a bit to the experience) but not if it is thunderstorming. 
The fee for this walk is $20 per person and registration is required by Thursday, March 23rd.