Grant Nature Land – Camping OPEN
Location
Address: 2439 Fenton Street
Swan, IA 50252
Contact:
Directions
From Carlisle, head south on Highway 5. Go through Hartford and across the South River. Take a right 1.5 miles past the South River on Erbe Street and follow it to the park entrance.
Activities
Things to Do
We manage over 2,700 acres that are open for visitors to enjoy a variety
of year-round outdoor recreational activities.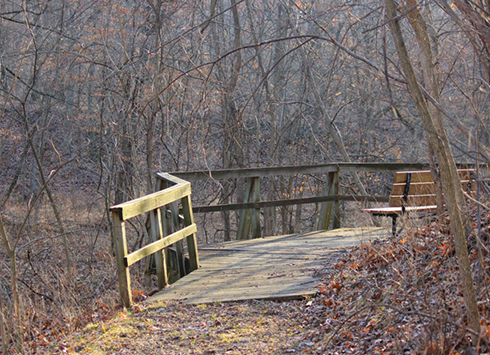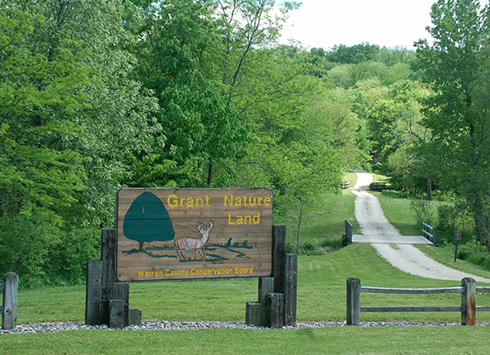 Donated by Ferold and Dorothy Grant, this 150 acre park in northeast Warren County features a picnic shelter, a secluded pond, wonderful woodland trails! The campground is now OPEN and offers 15 campsites with 20/30/50 amp electrical hookups as well as a shower house and modern toilets. The picnic shelter is available for reservation by calling the WCCB office at (515) 961-6169.
Campground is now OPEN! The camping rate is $20 per night, cash only. Reservations are not accepted, but on a first come first serve basis. Registration is required and is available at the campground entrance. Campers may stay in WCCB campgrounds for 14 days out of any 30 day period.
Park Rules
What to Do and What Not to Do
Hours
Parks shall be closed during the hours of 10:00 p.m. to 6:30 a.m.
County Area
It shall be unlawful for any person to destroy, remove, damage or deface any buildings, park equipment, plant life, trees, signs, structures or natural material found within the boundaries of Grant Nature Land.
Motor Vehicles
All vehicles shall be confined to designated roadways and parking areas. No vehicle shall be left unattended on any county conservation area in such a manner as to obstruct traffic except in case of emergency.
Domesticated Animals
All privately owned domesticated animals shall be either carried, led by a leash or chain; kept confined in or attached to a vehicle by their owner(s) or kept under strict control of the owner. Horse riding shall be confined to vehicular roadways only.
Recreation Vehicles
Recreational Vehicles are not allowed in conservation areas. Speed limit for all motorized vehicles is 15 mph.
Fireworks
Fireworks and explosives are prohibited in this conservation area.
Disturbing The Peace
No person shall be guilty of an act that constitutes a breach of peace, or interferes with their visitors use or enjoyment of the county conservation areas.
Fish Cleaning
No cleaning of fish or leaving fish entrails on WCCB property.
Refuse
All refuse must be taken with you.
Fires
Fires shall be confined to those places specifically provided and extinguished before the area is vacated. Cutting of live or dead standing or downed trees is prohibited.
State of Iowa
All laws of the State of Iowa not specifically mentioned here shall apply.