Location
Address: 23752 Highway 69
New Virginia, IA 50210
Contact:
Directions
Hickory Hills is located 13 miles south of Indianola on US Highway 69, just south of Medora and the intersection of Highway G76
Activities
Things to Do
We manage over 2,700 acres that are open for visitors to enjoy a variety
of year-round outdoor recreational activities.
Facilities
The park features a primitive camping area, a small fishing pond, several trails, and an old homestead site that includes the old storm cellar, house foundation, barn (with a concrete floor and electricity added for park user convenience) and a large shelter with a raised deck.
Click here for information on the farmstead site.
The barn and shelter are very popular for family reunions, scout outings, and weddings. A series of mounds built by Native Americans can also be found in the park, accessible by hiking trail.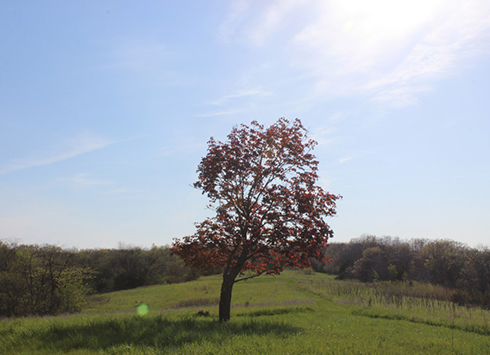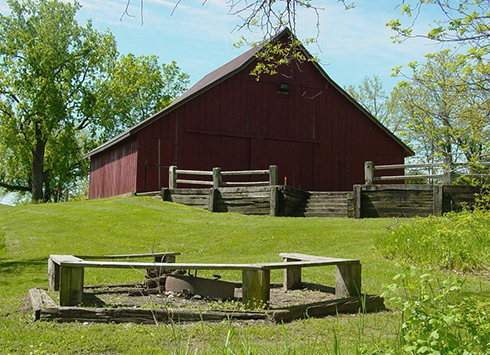 Please call the WCCB office for reservations at (515) 961-6169
Hickory Hills Park has 7 primitive campsites. There is a pit latrine in the campground. Water and modern toilets are available in the day use area April 15th through Nov 1st. Reservations are not accepted, but on a first come first serve basis. The camping rate is $5 per night. Registration is required and is available at the campground entrance. Campers may stay in WCCB campgrounds for 14 days out of any 30 day period.
Available facilities:
Barn with electricity
Open air shelter with electricity
numerous picnic tables
modern restrooms
camping in designated campgrounds
Rates: Per calendar Day 6 AM to Midnight (12AM)
$100.00 Monday through Sunday
$200.00 Damage Deposit
The rental fee is due within fourteen-days (14) of signing the rental contract. All payments are nonrefundable. The $200.00 damage deposit is due ninety-days (90) prior to the rental or at the time of booking, whichever is closer to the date of the rental. A rental not confirmed by timely payment will be cancelled. FriendsWCC at the $50.00 benefactor level or above receive a $100.00 discount on one rental per calendar year.
In addition, the renter will be required to provide liability and liquor liability insurance with limits no less than $1,000,000.00 per occurrence and $2,000,000.00 aggregate. This policy will need to name Warren County as an additional insured and a copy of the policy will need to be provided to the County for review by the County's attorney and insurance agent prior to rental. Proof of insurance will be due within 90 days of reservation.
To reserve or check availability of the Barn and Shelter, contact the WCCB office at (515)-961-6169.
Park Rules
What to Do and What Not to Do
Hours
Parks shall be closed during the hours of 10:00 p.m. to 6:30 a.m. except for overnight camping.
County Area
It shall be unlawful for any person to destroy, remove, damage or deface any buildings, park equipment, plant life, trees, signs, structures or natural material found within the boundaries of Hickory Hills Park.
Motor Vehicles
All vehicles shall be confined to designated roadways and parking areas. No vehicle shall be left unattended on any county conservation area in such a manner as to obstruct traffic except in case of emergency.
Domesticated Animals
All privately owned domesticated animals shall be either carried, led by a leash or chain; kept confined in or attached to a vehicle by their owner(s) or kept under strict control of the owner. Horse riding shall be confined to vehicular roadways only.
Recreation Vehicles
Recreational Vehicles are not allowed in conservation areas. Speed limit for all motorized vehicles is 15 mph.
Fireworks
Fireworks and explosives are prohibited in this conservation area.
Disturbing The Peace
No person shall be guilty of an act that constitutes a breach of peace, or interferes with their visitors use or enjoyment of the county conservation areas.
Refuse
All refuse must be placed in disposal cans provided or removed from the area when vacated by the user.
Camping
No camping allowed in the barn/shelter/restroom area. Camping in designated areas only. Campers may not remain in the park more than fourteen (14) consecutive days.
Fires
Fires shall be confined to those places specifically provided and extinguished before leaving the area. Cutting of live or dead standing or downed trees is prohibited.
Hunting
It shall be unlawful to hunt, trap, or in any manner intentionally take, capture, kill or wound any type of wildlife, game or non-game, native or migratory within the boundaries of this conservation area except for the taking of fish under the regulations set forth by the Iowa Department of Natural Resources.
State of Iowa
All laws of the State of Iowa not specifically mentioned here shall apply.