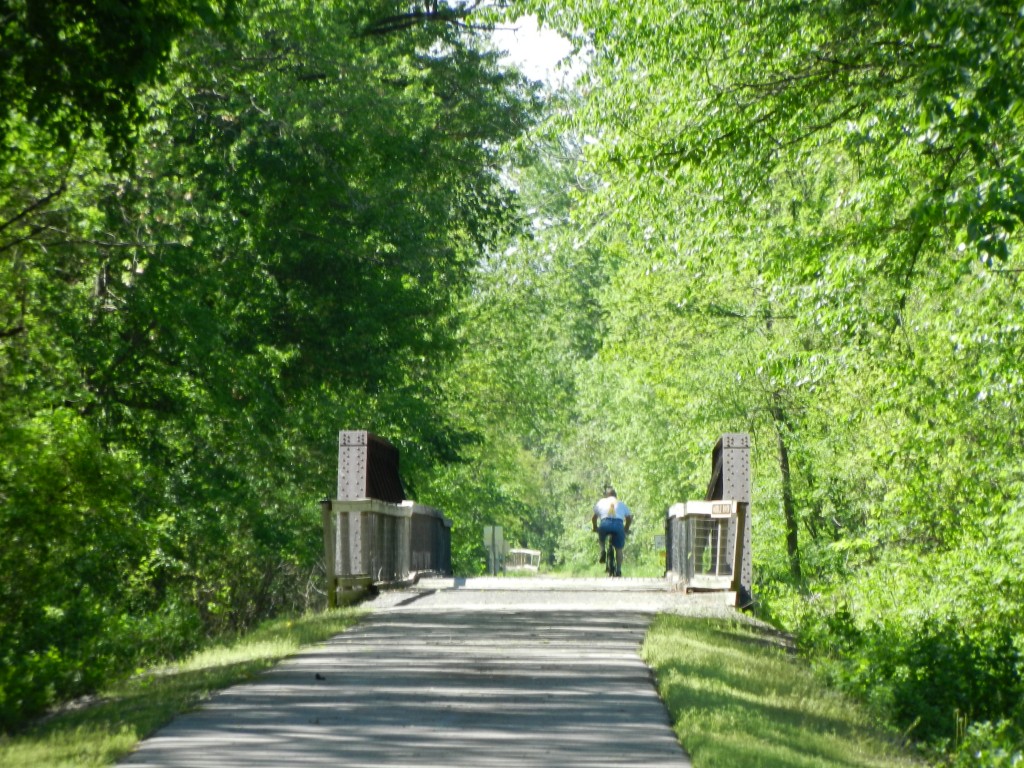 Stretching eleven miles from Carlisle to Indianola, the Summerset Trail follows the route of an abandoned rail line and passes through rolling hills and wetland river bottom as it winds from town to town. In the middle sits the village of Summerset on the south bank of the Middle River. North of Banner Lakes is a scenic area equipped with an observation platform. The platform is a great spot for birding as well as a nice break on an afternoon stroll. The Summerset Trail can be enjoyed in the winter as well by exploring the trail on cross-country skis, snowshoes or your own two feet.
Riding from north to south, riders start at the Carlisle parking area and travel southwest through the outskirts of town. The terrain is flat, and features both fields and wetland conservation areas. The entire northern section of the trail has no gain or loss in elevation. When the trail turns south at Banner Lakes, it crosses the Middle River bridge, and riders will notice the start of a gradual uphill climb for the rest of the length of the trail. South of the Middle River, the terrain becomes gentle rolling hills and prairie remnants. The Summerset trail ends at the Indianola trailhead, however riders can continue on the short McVay trail. The McVay trail heads downhill south of the trailhead through a deeply wooded area. Many people who ride the trail prefer to start at the northern end, to avoid the "hill" into Indianola at the end of a 22-mile (35 km) ride.
Restroom facilities with running water are available at the Indianola trail head. Pit toilets are available at the Carlisle trail head and at Banner Lakes at Summerset State Park at the trail's half-way point. Parking is available at all three points.
To download a map of Summerset Trail, click here.