2020 Warren County Parks & Trails Geocaching Fish Adventure
Grab your GPS, your binoculars and hiking boots, and get ready to explore! Find all 25 geocaches and collect the trading cards, April 1st- November 1st 2020.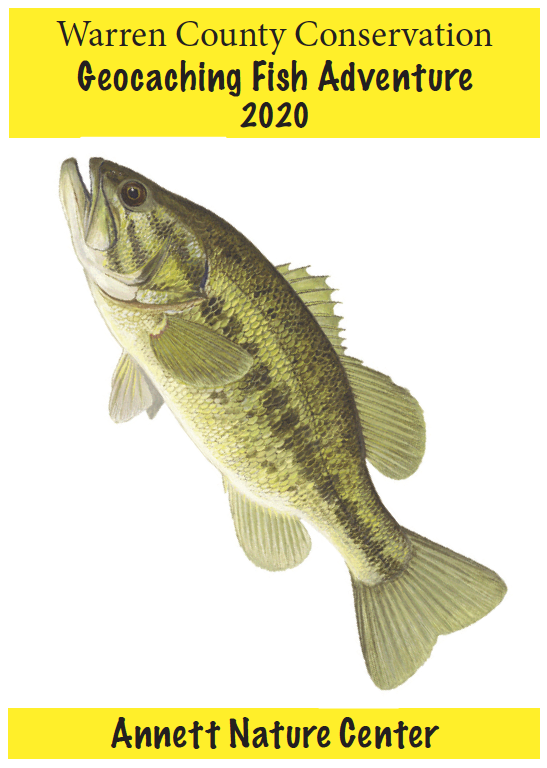 What is Geocaching? 
Geocaching is a real-world, outdoor treasure hunt using GPS-enabled devices. Participants navigate to a specific set of GPS coordinates and then attempt to find the geocache (container) hidden at that location. It is a world-wide hobby!
What is the Geocaching Fish Adventure?
There are 25 Geocaching Fish Adventure Caches hidden in county, state and city parks around Warren County. Your challenge is to explore parks and find them all using a GPS. Each cache includes an instruction card, a logbook, and a stack of fish trading cards. Sign the logbook to show that you found the cache and take a tree trading card for your collection. Explore the park around you and you might get lucky and find a one of Iowa's many trees.
After finding all 25 caches, take your 25 fish trading cards to the Annett Nature Center. We will give you the coordinates to find the last cache challenge. Take a picture of yourself with the very last card or all of your trading cards. Feel free to include family, friends, your dog or anyone else that helped you finish the challenge. All participants who successfully finish the challenge by November 1, 2020 will receive a prize and your photo will be posted on our Facebook page as Geocaching Adventure Finisher. Then, take the winter months off and check back in the spring for the next geocaching theme.
Wonderful Fish!
This is the 7th year of the Warren County Geocaching Adventure. We have done birds, insects, mammals, wildflowers, reptiles, trees, and now fish. This year we decided to focus on our underwater friends, fish.  There are many species of fish located throughout Iowa.  Some are found locally here in Warren County, while others prefer the cold streams of Northern Iowa.  So grab your hiking boots and maybe bring along the fishing gear and see if you can catch a big one!
To Have a Habitat! 
Warren County is rich in natural diversity, providing essential habitat for a variety of plants and animals. During the adventure, you can explore Iowa's four major habitats, woodlands, wetlands, prairies and river. Warren County Conservation and our state and city partners preserve and manage significant fragments of these essential nature landscape, making them great sites for flowers, wildlife, and park visitors. Be extra observant while you look for the geocaches, you'll be amazed at the natural wonders you can find in our parks!
Get Started Today!
• Download all the coordinates from below onto your GPS
• Use the GPS device to determine your location in relation to the cache. The GPS device will show you how far away and in what direction the cache is hidden.
• Find the cache, sign the logbook and take your trading card
• Create a free account on geocaching.com and log your finds. The 25 caches can be found by searching for "WC Fish Adventure" ( You can also download coordinates straight to you GPS from here or use the Geocaching app on your smartphone to find them)
Don't know where to start or need a GPS? 
We welcome you to stop in at the Annett Nature Center to learn more about geocaching. Staff can provide helpful tips and info about geocaching during our business hours. We have a limited number of GPS units that can be borrowed at no cost to assist you in finding the adventure caches. A valid drivers license will be required to borrow a GPS unit. It's best to give us a call at 515-961-6169 first before stopping out.
Rules of the Game 
Keep geocaching fun, safe and ethical by following the common-sense rules:
• Stay on marked trails wherever possible
• Tread lightly on the land and minimize impacts on the environment. Caches were placed above the ground in relatively well-traveled areas. There should be no need to disturb natural features to find a cache.
• Never remove or relocate a cache. Once you find it, open it to claim your prize, but then put it back exactly where you found it.
• You may find small trinkets left by other participants inside the cache. If you find one, it's yours to keep. You can choose to leave a trinket for the next Adventure geocacher.
• Observe all laws and rules of the park.
• If you have trouble locating a cache, call us at 515-961-6169 for hints and tips.
2020 Geocaching Tree Adventure Coordinates will be active on April 1, 2020 at 6AM on geocaching.com or enter the coordinates below.
Annett Nature Center (ANC)
N 41 17.690
W 93 34.598
Bank Swallow Bend 1
N 41 20.967
W 93 28.691
Bank Swallow Bend 2
N 41 20.458
W 93 29.082
Blue Flag Marsh
N 41 26.781
W 93 45.481
Carlisle City Park
N 41 30.424
W 93 29.023
Grant Park 1
N 41 25.703
W 93 20.111
Grant Park 2
N 41 25.424
W 93 19.890
 Great Western Trail
N 41 29.320
W 93 45.760
Hickory Hills 1
N 41 10.675
W 93 36.659
Hickory Hills 2
N 41 11.114
W 93 36.559
Hooper State Game Area
N 41 16.648
W 93 34.978
Lake Ahquabi State Park
N 41 17.889
W 93 35.221
Lundy Acres 1
N 41 25.232
W 93 35.330
Lundy Acres 2
N 41 25.131
W 93 35.444
North River Greenbelt Swamp White Oak Tract
N 41 26.939
W 93 41.704
Otter Creek 1
N 41 14.776
W 93 31.998
Otter Creek 2
N 41 14.665
W 93 31.908
Pickard Park
N 41 21.368
W 93 31.269
Rolling Thunder Prairie Complex Medora Prairie
N 41 12.492
W 93 37.541
Summerset State Park
N 41 26.245
W 93 33.115
Summerset Trail
N 41 27.579
W 93 30.799
Woodland Mounds 1
N 41 20.887
W 93 25.991
Woodland Mounds 2
N 41 20.680
W 93 25.904
Zo-El Annett Woods 1
N 41 23.593
W 93 41.895
Zo-El Annett Woods 2
N 41 23.716
W 93 41.936
ANC Final
Once you have collected all 25 trading cards, stop by the Annett Nature Center for your final secret coordinates to collect the last card and receive a geocache finisher's medal. Our hours are Monday-Friday 8AM-4:30PM and Sunday Noon-4PM. It is advised to call ahead as some duties require staff to be away from the nature center. 515-961-6169. Thank you for participating in this years adventure.
***Due to Covid-19 you are welcome to simply "log your find" on geocaching.com  and pick up cards from the Annett Nature Center at a later date. **
Want to hide your own cache?
To hide a cache at a Warren County Conservation property, please review our geocaching policy. A permit is required to place a geocache in WCCB. Details here.