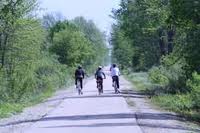 This 16.5 mile journey can be a step back into time as travelers witness a few remaining prairie and wetland remnants. The paved trail, managed jointly by the Warren and Polk County Conservation Boards, preserves some of Iowa's endangered plants, those plants that had been wiped out in other parts of the state as land-use changes were made.
The Great Western trail heads are located across from the Izaak Walton League Clubhouse on Valley Drive in Des Moines and at Inwood Street in Martensdale. Your trip along the Great Western Trail is a journey into history. It will take you through the site of Lida, past the munitions train derailment and fire near North River and across the Churchville Prairie.
In 1914, no point in Iowa was more than 12 miles from a railroad. They served many small-town elevators and coal yards. The track was opened in 1891 by the railroad that became the Chicago Great Western in 1893. The Chicago & Northwestern was the last train company to use the rail line which originally ran from Des Moines to St. Joseph, Missouri. A few concrete mile markers giving the distance between the marker location and Kansas City can still be found standing as sentinels from the past.
The trail is full of adventure for the nature enthusiast, the history buff, and for those who simply wish to leave the noise and congestion of the city. Put on your hiking boots or hop on your bike and enjoy the trail.
Restaurants and restrooms are available near the Des Moines and Martensdale trail heads and Cumming. Picnic mini shelters and water are located at Gear Street north of Martensdale, Coolidge Street south of Cumming and a picnic mini shelter is located south of 72nd Avenue in Polk County.
Great Western Trail Map
Great Western Trail Brochure and Map