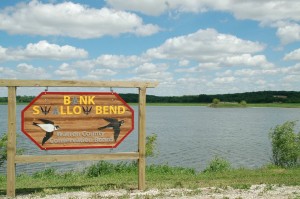 With 543 acres of upland and wetland habitats, including more than a mile of South River, Bank Swallow Bend is a haven for fishermen, hunters, and bird watchers. The area is named for the bank swallow colony that lives in the banks of the South River.  The property is part of the Federal Wetlands Reserve Program, designed to keep flood-prone areas out of development. It provides critical winter cover for local wildlife. Migrating waterfowl, especially in the spring, use the area heavily and there is an active eagle nest on the property.  Miles of mowed fire breaks that act as trails for people to explore the vast area. Pheasants Forever, the Iowa Natural Heritage Foundation, the Wildlife Habitat Stamp Fund, and the North America Wetlands Conservation Act all helped acquire this area for Warren County.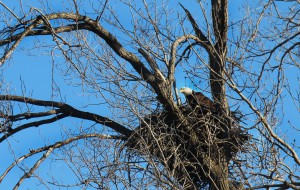 Location:
12565 168th Avenue
Ackworth, IA 50001
Directions:
Bank Swallow Bend Wildlife Area is located 8 miles east of Indianola off of Highway 92. Take Highway 92 east out of town for 4 miles. Turn south on S23. Follow S23 to the intersection of S23 and 168th Avenue. Head south to the address on 168th.
Park Map:
Click here for park map.