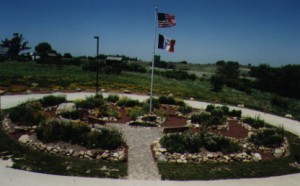 The Butterfly Garden serves as a centerpiece for the entrance to the Annett Nature Center. It consists of numerous raised flower beds, built from native Iowa field stone with crushed brick walkways. The center bed also houses a pond with a cascading waterfall surrounded by a brick patio and benches. Large Iowa stones set the circle drive with small flower beds between them.
The flower beds, planted in 1999, hold a large number of native prairie plants that bloom spring, summer and fall. White, purple, orange, yellow and blue are just a few of the colors to be seen.
Adding even more interest are the retaining wall terraces on the west side of the building, also planted to flowering native plants, and the prairie restoration area surrounding the ANC, consisting not only of flowering plants, but a variety of native prairie grasses as well.
Annett Nature Center dedicated The Butterfly Garden to the memory of longtime Warren County Conservation Board employee Ken Ball's late wife, Dorothy, and in Recognition of Ken's long and heartfelt service to the board.