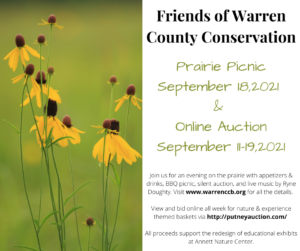 2021 FWCC Prairie Picnic : Saturday, September 18
FWCC annually hosts the Prairie Picnic fundraiser in September. This event includes a catered dinner from Smokey D's BBQ, social hour, and silent auction. This relaxing, enjoyable evening is sponsored by the Friends of Warren County Conservation to raise funds for facilities and programs at the Annett Nature Center. Guests will enjoy appetizers, drinks, and live music by Ryne Doughty from 5PM-7:30PM. Dinner will be at 6 PM with a silent auction and to follow. Cost is $30 per person. Contact Karen at 515-961-6169 to reserve your spot.
Online Auction September 11 at 8AM-September 19 at 3PM
Online items will be listed starting September 11 at 8AM until September 19 at 3PM. Visit www.putneyauction.com to set up a free account, view items, and place a bid. You can view the items on our Facebook page prior to the event or in person on September 19 at the picnic. 2021 Online Auction List Pick up and payment of purchased items will be at the Annett Nature Center on Monday, September 20, 2021 from 3PM-6PM.
Annett Nature Center Address: 15565 118th Ave, Indianola, IA
Gray Headed Coneflower Image Courtesy of Larry Reis