Otter Creek's shady picnic area, winding trails, secluded campsites, prairie restoration area, and small pond offer a pleasant variety of recreational and educational opportunities to park visitors. The 80 acre park was acquired by the WCCB in 1976, the board's first land purchase. The park has taken shape since then. A picnic area was constructed, complete with tables, grill boxes and play equipment. Trails were made. They cut through the oak and shagbark hickory forest, which typify the native vegetation of Warren County's ridges.
Following the trail on the west side of the park, you will quickly discover the secluded campsites that overlook Otter Creek. These are primitive campsites that can only be reached on foot.
No hike at Otter Creek is complete without a visit to the pond. Although it is small and contains no fish, it attracts a large number of animals. The waters are crowded with aquatic insects and frogs. The large tadpole population makes it a great attraction for children, whose access to the water has been made safe by the installation of a boardwalk along the pond's edge.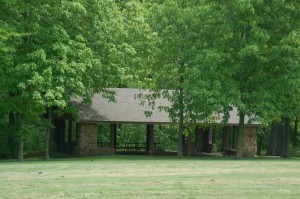 The picnic shelter is available for reservation by calling the WCCB office at (515) 961-6169.
Address:
14400 Quebec Street
Indianola, IA 50125
Directions:
Otter Creek park is located seven miles south of Indianola. Travel 4 miles south on Hwy 65/69. Follow Highway 65 at the split. From there look for the Otter Creek sign. Turn south on 150th then west on Quebec to the park. The park is on the south side of the road.