Bird Anting
By Charles Ginter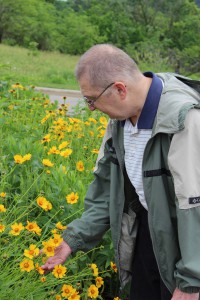 In the summers throughout my 28-year career as Indianola's librarian, I enjoyed walking to work. It allowed me to pay attention to all the birds, trees, flowers and insects along my route.
One morning a bird I was watching acted very strange.  Its wings were spread and all of its feathers looked like they were standing on end.  The bird was pressed against the grass.  Its beak was wide open and it seemed to be gasping for air.  As I got nearer, I could see the bird's eyes were closed and with each gasp for air its whole body jerked and quivered.
My first thought was, " Oh! Oh! This is really a sick bird.  Maybe it has eaten some poison."
I watched for a few minutes longer and then moved closer.  Suddenly the "sick bird" became aware of me and, much to my surprise, with quick flaps of its wings moved to a nearby tree.
I walked to the spot where the bird had been and saw a large anthill.  Some ants were still milling around, looking for the bird that only a few moments earlier had intruded on their territory.
It was then that I realized what I had witnessed.  It is called "bird-anting".  Some species of birds will sit on an ant nest and stay there while the ants crawl over, under and through the bird's feathers.
Ornithologists (people who study birds) are not sure why the birds do this.  It could be that the ants are "cleaning" the feathers.  Whatever their reason, I'm glad I got to see that little wonder of nature.  It taught me to pay close attention, because nature is full of wonders!
————————————————————-
Charles Ginter was born and grew up on a farm in Rhodes, Iowa.  In 1959 he joined the air force, became a medic, and served in that position for five years.  After military service he went to work in a factory in Marshalltown, but found the job unfulfilling.  By chance, he bought a book about the Great Books of the Western World and joined a Great Books discussion club.  His natural interest in reading led to an offer to serve as assistant librarian in Marshalltown.  In 1970 he accepted the position of Indianola's librarian. To further his education, he enrolled at Simpson College and went on to earn a Bachelor's degree in Art.  Charles spent 28 years serving the people of Warren County. He and his wife Earlene retired in Indianola and still live just a few blocks away from the city library.